< Back
NFL
| Jul 27, 2023 |
2
min read
The Best Way To Sell NFL Tickets
One of the most exciting times during the NFL preseason is when the schedule is released. As soon as NFL tickets go on sale for the upcoming season, fans become excited to grab tickets for their favorite matchups. If you're a season ticket holder, your team's new schedule is an opportunity to decide which games you can't attend or would rather sell off to help offset some of your expenses. Putting your unwanted tickets up for sale as soon as possible ensures you'll get the highest return for them, since anticipation for marquee matchups will be at its peak. If you're looking for the best way to sell NFL tickets, TiqAssist is your reseller destination.
Listing on Resale Marketplaces
Ticketmaster, Stubhub and SeatGeek are all official NFL resale marketplaces
Leagues typically have one official resale marketplace they partner with, but the NFL utilizes multiple official resale marketplaces. Three of the most popular marketplaces are Ticketmaster, StubHub and Seatgeek. This is great for buyers because there are more options for officially verified tickets.
You May Reach Only 20% Of NFL Buyers If You List on one Marketplace
The downside for sellers is that buyer demand is split across multiple sites. So, if you list on only one platform, you might reach just 20%.
Have Experts Sell Your Tickets For You
TiqAssist's expert ticket resellers have the tools to list on all major platforms simultaneously without the risk of double-selling. In addition to listing on Ticketmaster, StubHub and SeatGeek, our experts will also list on popular sites such as VividSeats, Gametime, TickPick and broker-to-broker exchanges. This allows professional ticket resellers to reach 100% of buyers, increasing their opportunity at a great sale price.
TiqAssist is the best way to sell NFL tickets online. We provide services for season ticket holders looking for an expert to sell games they can't attend. Listing your tickets with us ensures you'll be broadcast across 10+ marketplaces reaching 5x the buyers. Learn more at tiqassist.com and enjoy the perks of being a season ticket holder again! For more information on the best way to sell football tickets, check out our article on how each online resale marketplace compares.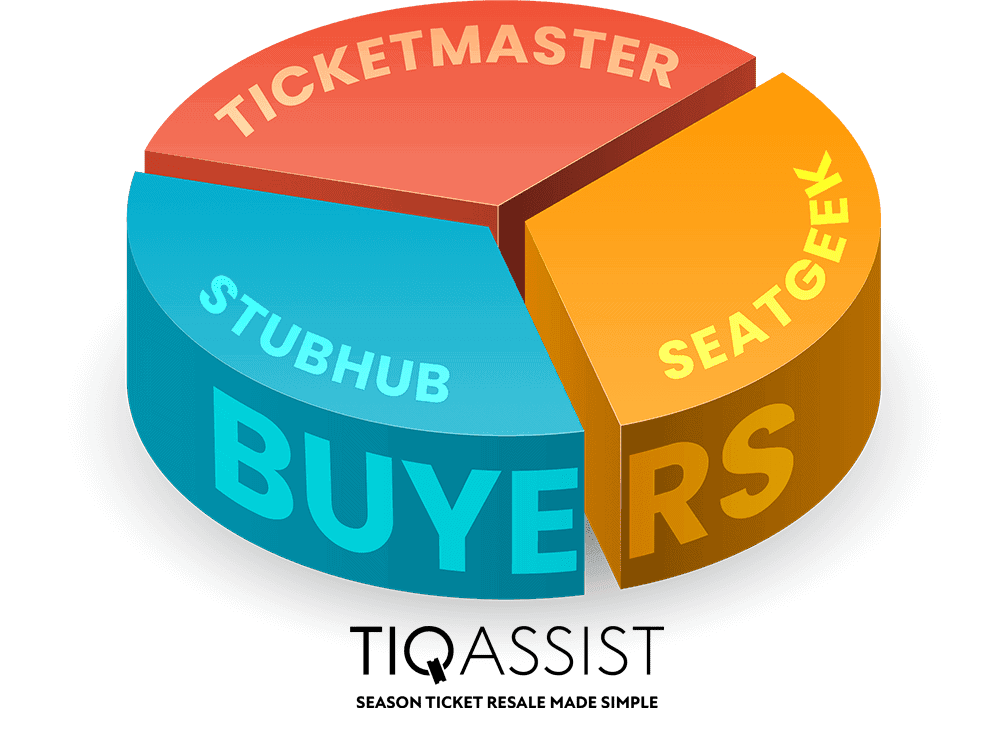 The Best Place to Sell NFL Tickets
If you're looking for the best way to sell your NFL season tickets, partner with TiqAssist to ensure your season runs smoothly. Our resale guarantee ensures you can get the best return on your investment when it comes to NFL season ticket resale. We're your partner throughout the entire season, doing all the hard work for you. You'll be surprised by how our professional selling power allows you to sell your season tickets with ease. To learn more about what makes us the best way to sell NFL tickets, reach out to us today and focus on being a fan.
Start selling
with tiqassist
Powerful technology and dedicated selling experts that sell your season tickets for you.
Start Selling Today