< Back
NBA
| Sep 23, 2022 |
7
min read
Manage & Sell NBA Tickets Like A Pro in 2022

Welcome to the 2022 NBA Season
It's an exciting time of the year for NBA season ticket holders, with the NBA draft having recently happened, free agency having kicked off and exciting trades moving superstar players around the league (with more possibly to come).
The talent level across the Western Conference and Eastern Conference has exploded, making every night interesting to watch. It seems the NBA's efforts against tanking are working, as there are fewer teams than years past fielding non-competitive (and non-interesting) rosters.
Teams that should see an increase to their ticket resale value due to either big trades or building off a great performance last season are the Minnesota Timberwolves, Boston Celtics, Dallas Mavericks, Cleveland Cavaliers and Atlanta Hawks.
Teams that should see bounceback seasons for ticket resale value due to key players coming back from injuries are the Los Angeles Clippers, Los Angeles Lakers, Denver Nuggets, Portland Trail Blazers and the New Orleans Pelicans.
In general we expect to see more demand for NBA tickets for the 2022-2023 season, as COVID restrictions and concerns decrease. The decreased impact from COVID should also result in lower supply, as supply was high last year given many season ticket holders sold all their tickets last year due to COVID-related restrictions or concerns.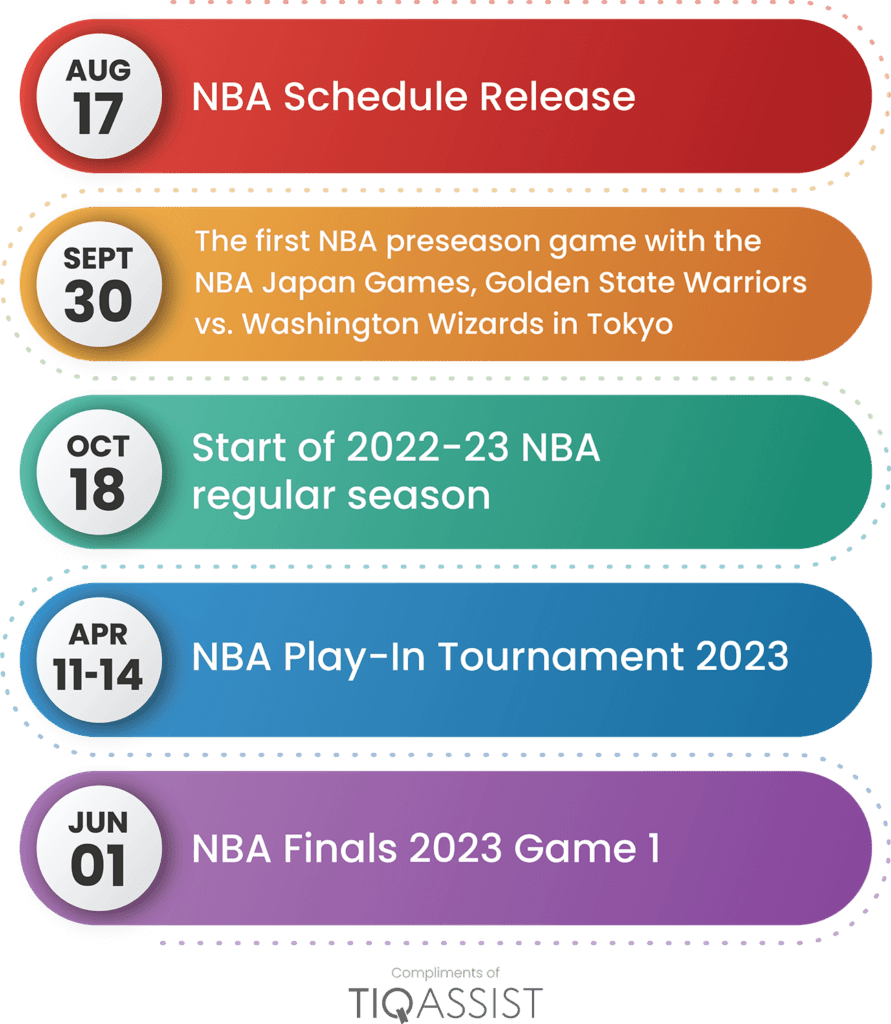 Key Dates for the NBA Season
NBA ticket resale for the 2022-2023 season kicks off with the NBA schedule release on Aug 17th.
Here are key dates for the NBA calendar to get excited for and use for your ticket-selling strategies.
If you find this article useful, feel free to share it with fellow NBA friends!

The Best Way to Sell & List NBA Tickets
List on Schedule Release Day.
It's a seller's market.
Early buyers will pay more.
No impact from player injuries.
Fan excitement peaks.
Most of your time should be spent on the schedule release day. Try to plan out the games you plan to attend immediately and list everything else.
The National Basketball Association is doing all the work to make sure everything is exciting about the next season, so we recommend you catch the wave of volume before it slows down.
If you're a season ticket holder, we go into more detail in this section.
How to Price Your NBA Tickets
Look at Similar Seats
You can price check your NBA tickets by finding listings that are:
1) Similar or closer in distance to midcourt
2) Five rows behind you or closer to the floor
If you have seats near the home bench, look at seats on the home side of the court. The same goes for visitor-side seats. Seats on the side of the court with the player's benches carry a slight premium, so don't compare those seats to seats on the other side of the court.
Find the cheapest seats that meet the above criteria, then price above or below based on the below information.
Bundle 3+ seats together and get a premium.
It's harder to find three or more seats together relative to a pair, so buyers need to generally pay a premium of 10-15% for three seats together. If you can sell five or six seats, you might command as much as a 30% premium over a pair. Buyers looking for that many seats typically plan ahead, which means buying when prices are higher in the life cycle of a ticket.
If you have three or more seats and can't find comparable seats to price against, consider looking at a comparable pair of seats and pricing 15-30% above that pair.
Compare the Ticket Marketplace Prices
Ticketmaster, Stubhub, and other marketplaces can have wildly different prices. Sometimes one marketplace doesn't have much supply on-hand, which can lead to prices that are unrealistically high.
The marketplace with the higher number of listings for your team is likely to be a better proxy of what the true market value of the tickets.
The Factors that Drive Prices Up/Down
Watch out for these factors, and you will be able to predict the price direction of tickets with much greater accuracy. We sort out these factors into negatives and positives. The negative factors can drive the price down, so you should likely price your tickets lower preemptively to get a sale before further selling pressure kicks in. On the opposite side, the positives are great for the price.
Negatives:
Selling within one month of the game. The closer the game, the lower the prices will be in general
The home team is likely not going to the playoffs or underperforming expectations
Key injuries to either the home team or the visiting team
Monday/Tuesday/Wednesday games. Monday being the worst, Tuesday second worst
Low resale value opponents

Lottery pick team, minimal legacy, doesn't draw well on the road
Examples (the worst resale teams shown first): Detroit Pistons, Oklahoma City Thunder, Orlando Magic, Houston Rockets, Indiana Pacers

The game is part of a home back-to-back, a long homestand, or 3 home games in 4 days type situation
Bad weather
Day games
NBA games on a Sunday during the NFL season
Positives:
Selling more than one month from the game. The further away from the game, the more you can sell your tickets for
The home team is performing to or better than expectations going into the season
Great resale value opponents

Either a legacy team, superstars, deep fanbase, or championship contender
Los Angeles Lakers, Golden State Warriors, Dallas Mavericks, Chicago Bulls, Milwaukee Bucks, New York Knicks, Boston Celtics, Phoenix Suns, Brooklyn Nets

Rivalry game
Big holiday
Friday/Saturday/Sunday games (Saturday being the best)
The opponent is performing to or better than expectations going into the season
Guidelines for Season Ticket Holders
List Season Tickets on "Release Day" of the NBA Schedule
Following this advice will help you maximize the price you can get for your tickets.
List your tickets as far out from the event as possible. On schedule release, there will be significantly higher buyer volume which will allow for higher season ticket pricing. There will be plenty of die-hard fans or planners who want the certainty of having the tickets in hand, particularly for the hottest games of the year.
You'll get a premium over the others who have NBA tickets but haven't gotten around to listing their tickets or are waiting until closer to the game when they know whether they can attend or not. That means at the NBA schedule release there's extremely limited supply and very high demand, which leads to a seller's market.
Additionally, you want to avoid negative factors that may come up and impact ticket pricing. For example, player injuries that happen on either the home team or the visiting team. Whether it's a superstar that is injured or resting, that could reduce the value of the ticket in half or more.
If you are unable to list around the schedule release, we recommend selling at least five weeks in advance of the game. This is because most sellers list one to four weeks before the game, so you'll want to get out in front of these sellers before they flood the market with inventory.
Also, sellers start feeling the time crunch as the game nears, at which point it's a race to the bottom as sellers undercut each other.
List early games and low-resale value opponents first
The earlier games typically see less hype, so you may want to consider listing these tickets lower than normal as these games have less buyer demand. If you know you are unlikely to attend these games, best to get out ahead of the falling prices and sell early.
Get your 2nd half tickets listed ASAP if your team may fall out of playoff contention.
Once the team loses sight of the playoffs, fans lose interest which leads to high supply and low demand, and prices tank.
Pay off your payment plan as soon as possible.
While a 0% interest payment plan seems great on the surface, you can't list tickets that are not paid in full. Delaying reselling your listings can cost you significantly in the end via the lower resale prices that you are likely to encounter as the game nears.
The New Way to Manage NBA Tickets
As exciting as the NBA is right now, we know most season ticket holders can't make it out to all the home games in the NBA schedule, so selling tickets through resale marketplaces is a necessity. That's understandable – whether it's weekday NBA games that end too late at night, weekend commitments, or you need to resell the most valuable NBA games to finance your season ticket investment.
Built for Sports Fans, By Sports Fans.
If you ever thought to yourself, "why do I spend so much time managing my tickets? Why isn't there a solution for this?"
We thought the same thing, so we made TiqAssist.
Your tickets reach 100% of potential buyers through simultaneous listing on Ticketmaster, StubHub, Seatgeek, VividSeats, Gametime, TickPick, and other exchanges. No accidental double-selling of tickets. No marketplace sells more than 20% of our tickets, underscoring how important it is to list on all the top marketplaces. Our NBA Selling Breakdown graphic goes into more detail on which marketplaces buyers go to in order to buy our tickets.
Your ticket prices are automatically updated to sell for the highest price possible and you get a bird's eye view with a dashboard of all your ticket listings in one place.
Saving you a ton of time and earning you more with automatic pricing.
On top of all this, TiqAssist guarantees that your ticket will sell. So you can have complete peace of mind and never lose out over tickets.
Built for sports fans, by sports fans, we want you to spend less time on your tickets and more time enjoying the game along with us!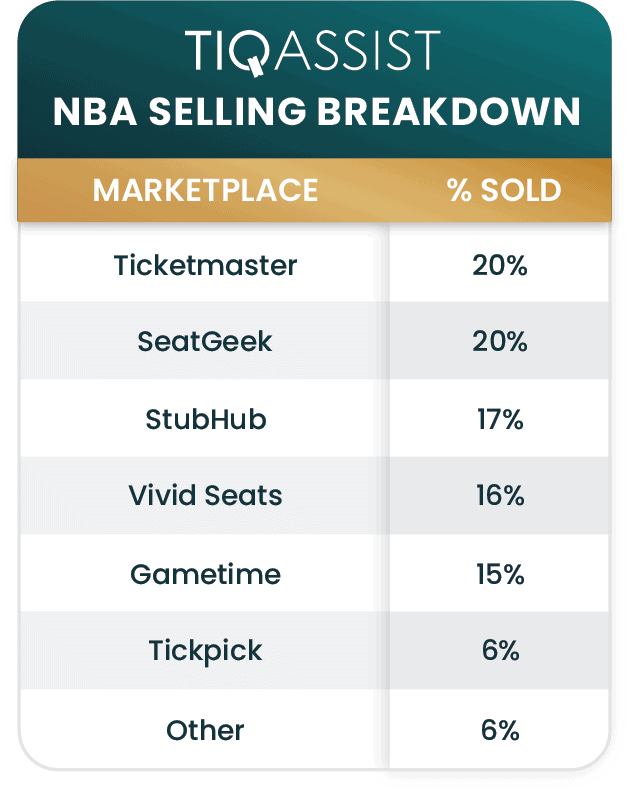 Summary
Reselling NBA tickets has become more challenging as the effects of the pandemic linger, and more resale marketplaces have emerged. Your best shot at success is listing as far in advance as possible and following our pricing tips above.
These tips were written by our selling experts. Follow us on social media to get more up-to-date information and the latest tips to give you an edge when selling tickets.
———
If you enjoyed this article, you'll love having TiqAssist's selling experts and technology fully manage your ticket resale for you. Just click "List" for any game on your personalized dashboard and you're done!
To learn more about best practices around ticket resale and the top ticket resale marketplaces, read our blog article on "How to resell tickets online."
To learn more about best practices around selling NBA playoff tickets,
read our blog article on "Selling NBA Post Season Tickets."
You may repost our infographics on your website only if you link back to this original article and give credit to TiqAssist.
Start selling
with tiqassist
Powerful technology and dedicated selling experts that sell your season tickets for you.
Start Selling Today